Join us in a week-long celebration, spanning from 20th–28th November, as we congratulate the remarkable accomplishments of the Wikimedia UK community. It's often the case that efforts of Wikimedians go unacknowledged, so we're excited that this campaign will share the pivotal role each member of our community plays in advancing open knowledge.
Over this past year the UK editing community has been as determined as ever to advance open knowledge online. An encyclopaedia is most valuable when it represents us all, and our community consists of individuals from diverse backgrounds and a variety of skills. Their contributions are vital in ensuring the availability of accurate, comprehensive information for people around the world. With each edit they make they strengthen Wikipedia and its sister projects, ensuring they remain a valuable resource for knowledge-seekers everywhere.
Giving Tuesday is the perfect opportunity to highlight some of the activities of our community. The last year has presented the UK editing community with new challenges, which have been met with determination and enthusiasm. We've seen new partnerships form, welcomed new groups into editing, and made great strides in our mission to represent all knowledge on Wikimedia.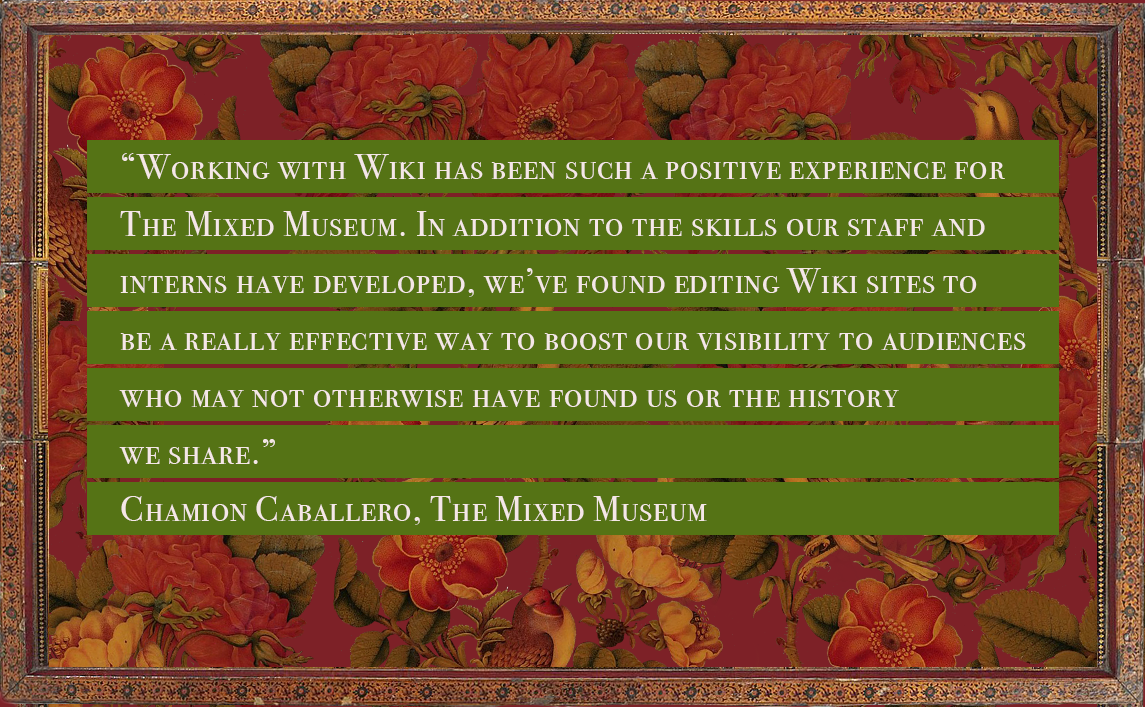 Earlier this year, Wikimedia UK partnered with the Swadhinata Trust, a London-based Bengali heritage organisation, to enhance the representation of Bengali heritage and culture on Wikimedia platforms. This collaboration began with an introductory online workshop and continued with an in-person workshop, focusing on creating Wikimedia accounts, editing Wikipedia articles, sourcing information, and uploading images to Wikimedia Commons.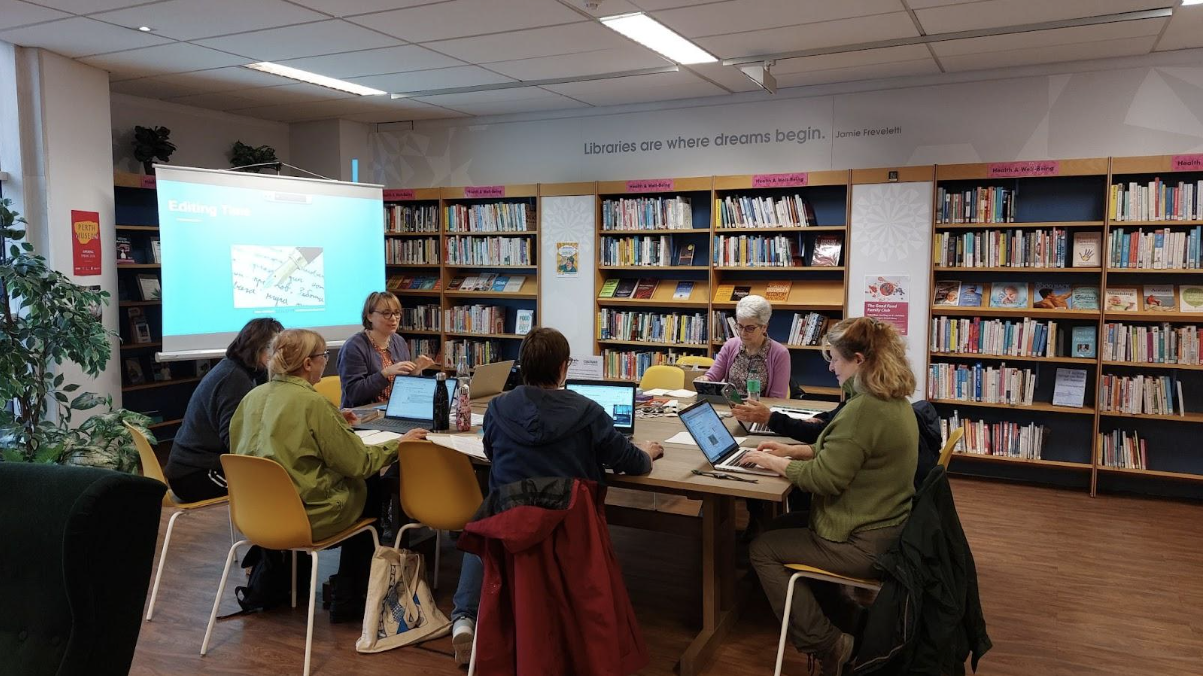 The online workshop was followed by an in-person workshop at the Wikimedia UK office in April 2023, where participants learned how to create an account and to edit Wikipedia articles, as well as how to find reliable sources and avoid conflicts of interest. They also learned how to upload images to Wikimedia Commons, the free media repository that anyone can use. They explored some of the existing articles on Bengali topics and brainstormed for potential contributions.
The collaboration between Wikimedia UK and the Swadhinata Trust illustrates how Wikimedia projects can effectively celebrate and safeguard a wide range of cultural heritages while promoting community involvement. But it also highlights how important working alongside local community organisations is for us as an organisation in order for us to achieve our goals in driving community engagement.
We've also seen real progress being made through our Train the Trainer programme. Trainers support volunteers who are keen to deliver Wikipedia editing events. They play a key role in the delivery of Wikimedia UK programmes and extend our work to underrepresented communities, supporting them to become engaged in the Wikimedia projects. They train new and existing editors across the country, in-person, online or in hybrid sessions.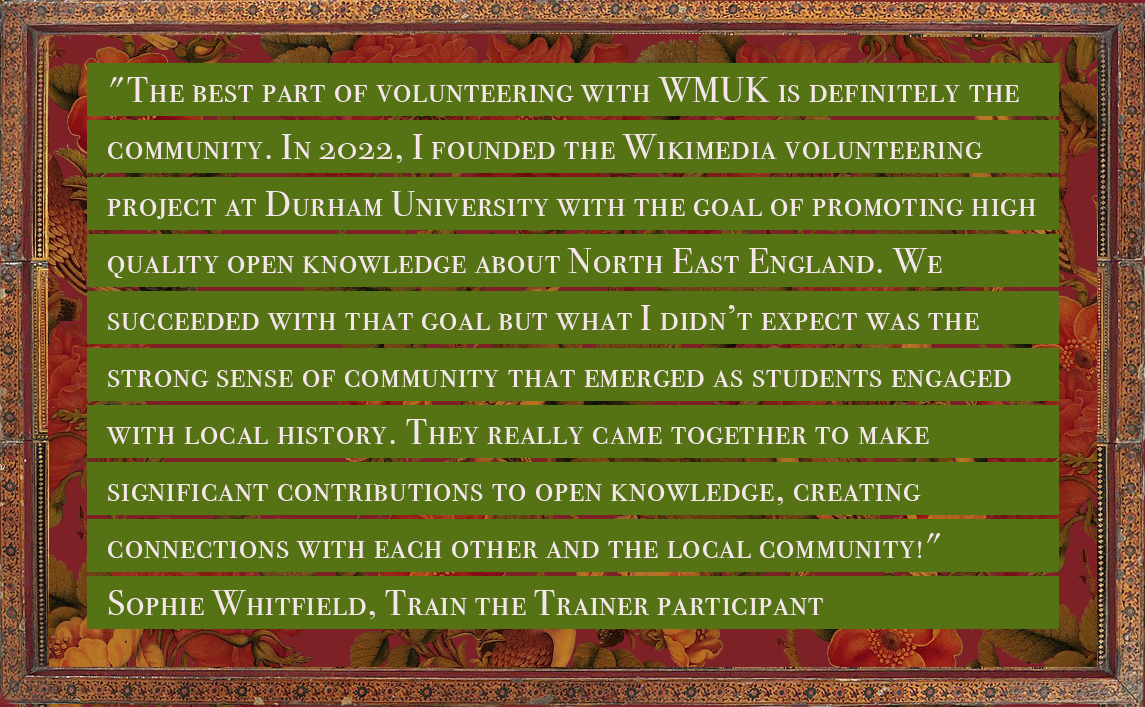 One of our trainers, Johanna Janhonen, began supporting Wikimedia UK last year, helping newcomers gain fundamental skills in the art of editing and learning from other Wikipedia trainers both in-person and remotely.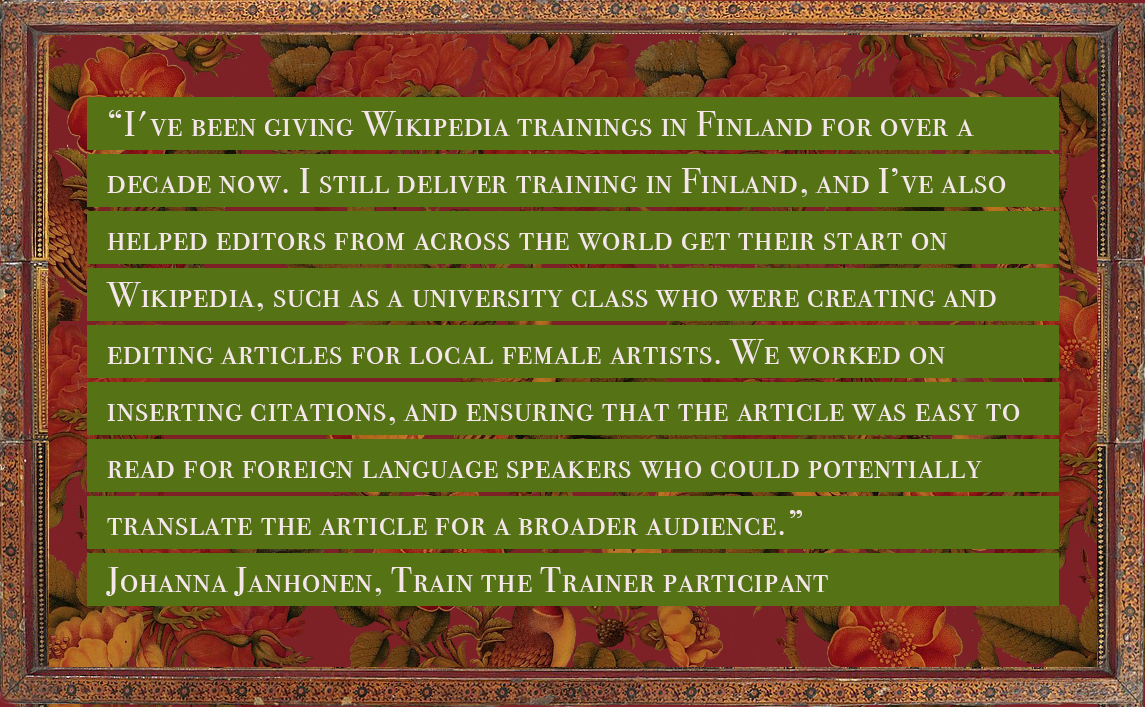 In April 2023, we began collaborating with an eager group of digital volunteers from the Royal Albert Memorial Museum. We initiated a practical three-week introductory program centred around Wikipedia and Wikimedia Commons. These volunteers came from various backgrounds, spanning from recent school graduates to retirees, each contributing their unique experiences and interests to the project. Over the three weeks, we covered essential editing techniques, addressed common questions about Wiki and cultural heritage, and discussed strategies for creating impactful edits. The program concluded with an online editing event in May 2023.
Throughout this process, we discovered a wealth of valuable content. We were particularly impressed by the significant contributions of local historians, highlighting their outstanding work on 'Devon Women in Public and Professional Life, 1900–1950: Votes, Voices and Vocations,' which significantly enriched our collaborative journey.
Nick Moyes, a former museum naturalist, has spent a career introducing people from diverse backgrounds to the wonders of museum artefacts, furthering their understanding of the world around them, and facilitating access to knowledge and information. Upon retiring a decade ago, he saw a new avenue for continuing this mission in Wikipedia. The platform offered an exceptional opportunity to carry on his work. It wasn't long before he found himself assisting fellow editors in their contributions to Wikipedia. Last year, Wikimedia UK conducted a 'Train the Trainers' program, equipping individuals like Nick with the skills needed to conduct introductory group training sessions, whether in person or online.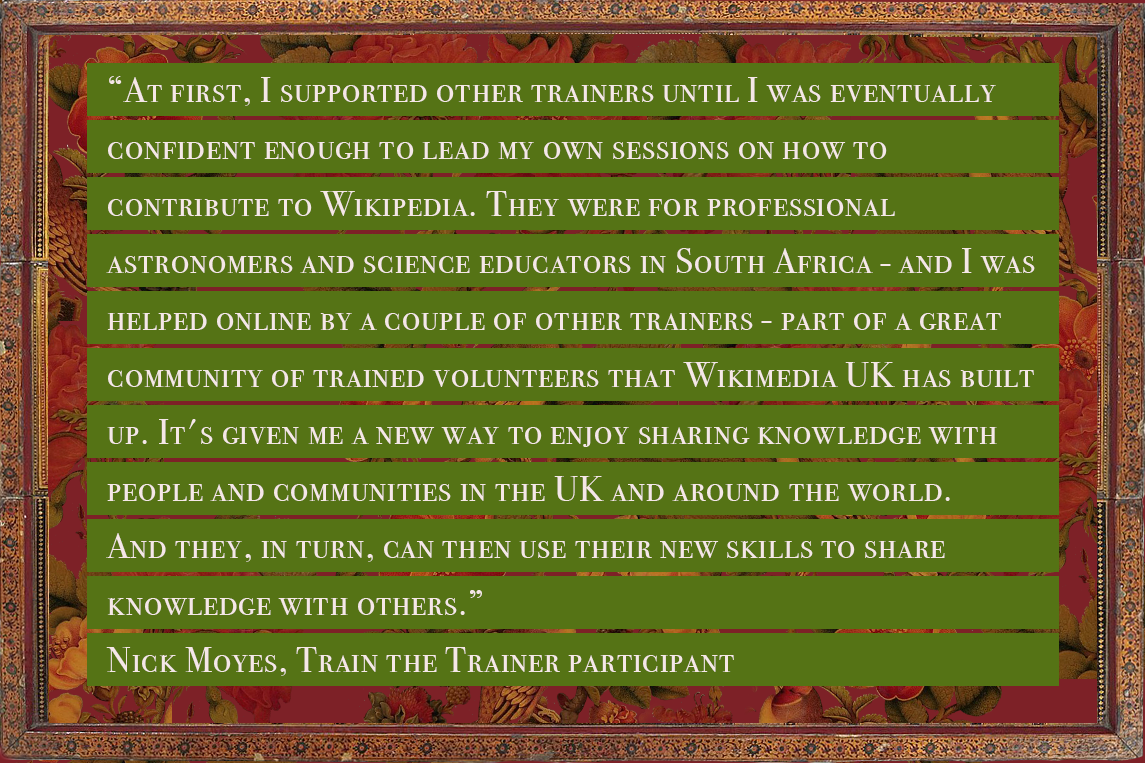 Initially Nick provided support to other trainers, gradually building the confidence needed to lead his own training sessions on Wikipedia contributions. His sessions were tailored for professional astronomers and science educators in South Africa, and he received invaluable online support from a network of fellow trainers, part of the robust community of trained volunteers cultivated by Wikimedia UK.
Pledge your support this Giving Tuesday and help us celebrate the wonderful Wikimedia UK community as we bring 2023 to a close and look ahead to 2024. Follow our Facebook, Twitter, Mastodon and Instagram channels to stay up to date, and hey, give us a follow while you're there!
P.S. We're also holding our community at Wikimedia UK 2023 Community Meeting, taking place Sunday 26th November, 12-2pm, online. To join, sign up here.