Partnership projects
Wikimedia UK engages with a range of different organisations across Scotland in a varied programme of partnership projects. These include cultural and heritage organisations, as well as universities, charities, and community groups. Current and past partners include the National Library of Scotland, the National Museum of Scotland, the Dumfries Stonecarving Project, Protests & Suffragettes, Code the City, the British Geological Survey, Dig It!, the Scottish Graduate School of Arts and Humanities, the David Livingstone Memorial Trust, Glasgow Buildings Preservation Trust, the Devil's Porridge Museum, and the Universities of St Andrews, Stirling, and Glasgow. We are particularly interested in reaching those communities and organisations outside the Central Belt, those working in Scots and Gaelic, and those whose knowledge and voices are left out by structures of power and privilege.
We can provide training and support to set up your own Wikipedia events, workshops or curriculum based projects, as well as advising on the upload of content to other Wikimedia Projects such as Wikimedia Commons, Wikidata, or WikiSource. We can provide advice and support in openly licensing your material – including text – and show you how you can track usage of donated images and text.
Should you be interested in setting up a partnership project, we'd love to hear from you – please contact scotland@wikimedia.org.uk
National Library of Scotland
Fruitmarket Gallery
Dumfries Stonecarving Project
The National Library of Scotland has hosted two Wikimedians in Residence, but our relationship and their engagement with the Wikimedia projects have continued long past the end of those residencies. Most recently, during lockdown, Library staff uploaded around 3000 items from the Scottish Chapbook collection to WikiSource. 
The National Library of Scotland has a collection of over 3,000 Scottish chapbooks, digitised and published in the Library's Digital Gallery. In March 2020, the Library undertook a project to correct the OCR on this collection by uploading them to Wikisource, proofreading them, then exporting the corrected OCR and loading it back into the Digital Gallery. The project began during the Coronavirus crisis and had been a useful way of using staff time while they work from home. In the first four weeks of the project, more than 60 members of staff had taken part. In addition, it has served as a good vehicle for engaging Library staff with the wider Wikimedia environment.
Staff used Pattypan to upload images to Wikimedia Commons and transcribed the texts on WikiSource.  The project saw significant engagement with the WikiSource community, and won the Library Partnership of the Year at the Wikimedia UK Awards in 2020.  The Library has also established an internal Wiki community, for which we have provided training and support.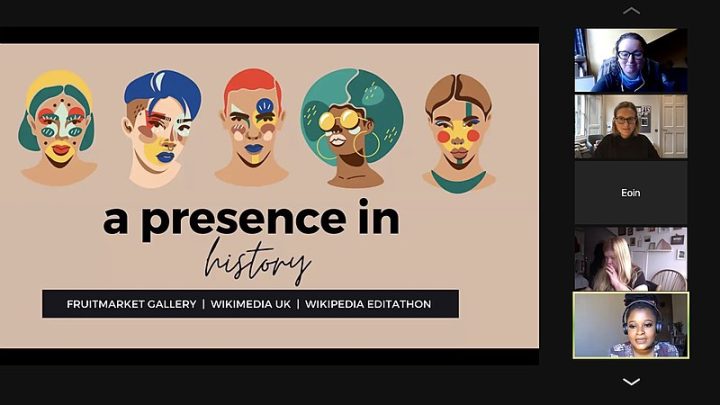 Since 2018, the Fruitmarket Gallery has worked with Wikimedia UK to hold regular editing events focusing on contemporary artists. They were introduced to us through Ewan McAndrew's editathon at the University of Edinburgh in 2017.
In 2021, the gallery started working with artist and cultural practitioner Tanatsei Gambura, to address the passive and active erasure of creative work by people of colour through creating and improving Wikipedia pages. These events were held online in response to Covid, and have encouraged ongoing editing as a form of virtual volunteering.
Tanatsei's research on this project, supported by Ruth Bretherick at the Fruitmarket, has created an ongoing worklist of articles relating to artists of colour working in Scotland and further afield.
The Fruitmarket Gallery was awarded an honourable mention (jointly with the National Galleries of Scotland) for the Wikimedia UK 2022 Partnership of the Year.
In 2018–2019, we partnered with the Dumfries Historic Buildings Trust to deliver the Dumfries Stonecarving Project. The year-long project celebrated the rich sandstone heritage of Dumfries, from local quarries to carved gargoyles.
Building on previous Wikimedia partnerships between Dr Sara Thomas and Dr Tara S Beall dating from 2015 onwards, the Wikimedia element of the project was built in from the very beginning, involving the delivery of Wikimedia Commons training sessions to local volunteers. Specifically, this involved engaging local photography groups, who uploaded high-quality pictures of local stone-carving – many involving listed buildings – which could then be used in Wikipedia articles.  Several pictures were entered into Wiki Loves Monuments 2018. Training and editing sessions were held in various locations across the community for both Wikipedia and Wikimedia Commons.  The project gained an honourable mention for Partnership of the Year at the 2019 Wikimedia UK Awards.
This and other projects were the basis for a conference paper written by  Drs Thomas and Beall, which was delivered at the 2019 HeritageDot conference, focusing on the ability of Wikimedia projects to ensure considerable impact and longevity for community heritage projects.
Further resources
Listen: 'Waltzes, Women, Walls & Wikipedia' Dr Sara Thomas discusses the project